GRAND PRIZE WINNER, THE GOETHE BOOK AWARDS 2022 - CHANTICLEER INTERNATIONAL AWARDS 

The Goethe Book Awards recognize emerging new talent and outstanding works in post-1750s Historical Fiction

 FICTION WINNER, HOLLYWOOD BOOK FESTIVAL 2023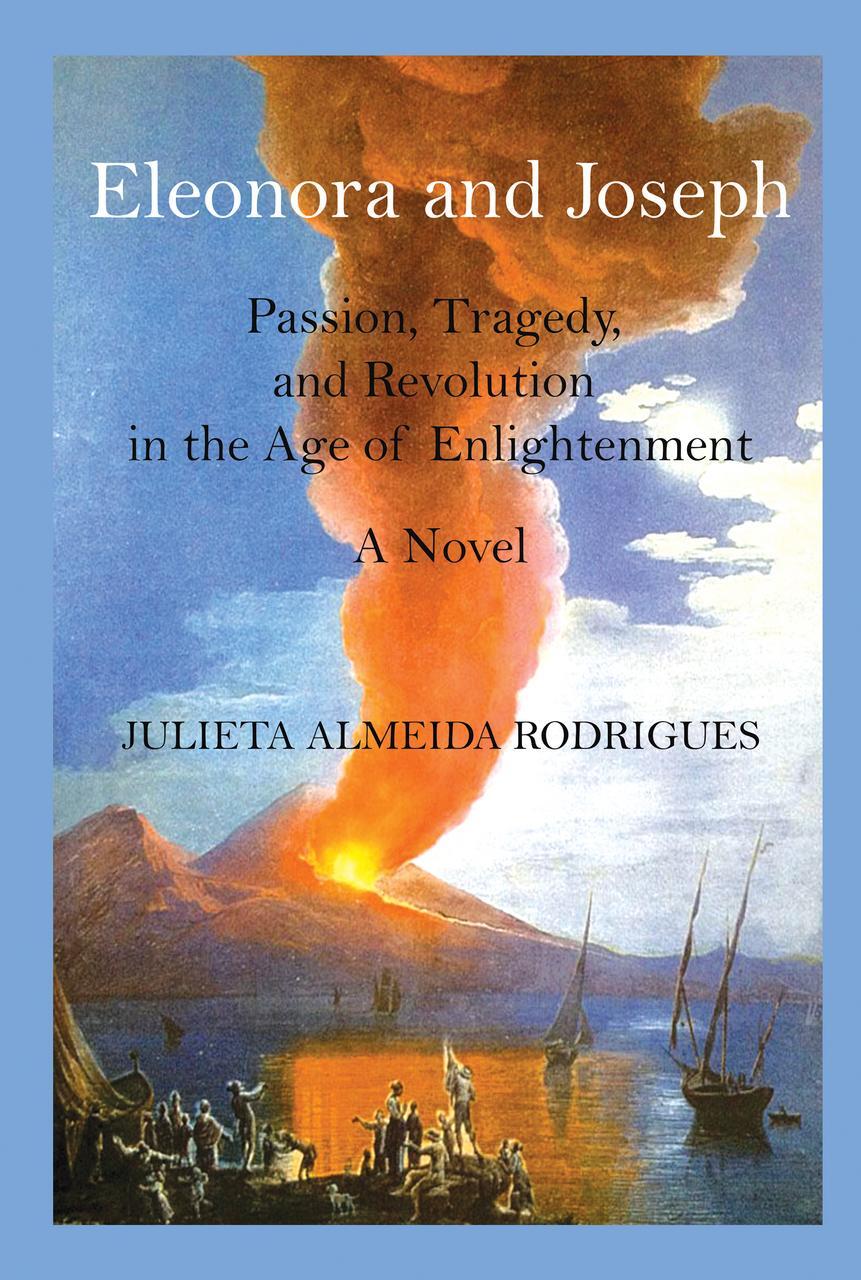 The novel opens with aristocratic Eleonora Fonseca Pimentel pleading with the High Court of Naples to be beheaded instead of hanged like a criminal. One of the leading revolutionaries of her time, Eleonora contributed to the establishment of the Neapolitan Republic, based on the ideals of the French Revolution. Imprisoned in 1799 after the return of the Bourbon Monarchy - due to her work as editor-in-chief of Il Monitore Napoletano - and while waiting to be sentenced, she writes a memoir. Here, she discusses not only her revolutionary enthusiasm, but also the adolescent lover who abandoned her, Joseph Correia da Serra.
While visiting Monticello many years later, Joseph discovers Eleonora's manuscript in Thomas Jefferson's library. Now retired, Jefferson is committed to founding the University of Virginia and entices Correia with a position in the institution, once it opens. As the two philosophes explore Eleonora's writing through the lens of their own lives, achievements, and follies, they share many intimate secrets.
Told from Eleonora and Joseph's alternating points of view, the interwoven first-person narratives follow the characters from the elegant salons of Naples to the halls of Monticello, from the streets of European capitals such as Lisbon, London, and Paris to the cultured new world of Philadelphia and the chic soirées in Washington.
Eleonora and Joseph were both prominent figures of the Southern European Enlightenment. Together with Thomas Jefferson, they formed part of The Republic of Letters, a formidable network of thinkers who radically influenced the intellectual world in which they lived - and which we still inhabit today.
Genre: Historical/Literary/Biographical Fiction
Print version (New Academia Publishing): July 21, 2020 Digital version: September 25, 2020
TO READ PRAISE CLICK TITLE
TO READ REVIEWS SCROLL DOWN
BUY THE BOOK
KINDLE/AMAZON NOOK/BARNES AND NOBLE GOOGLE PLAY APPLE BOOKS KOBO
HISTORICAL NOVEL SOCIETY
REVIEW
Rodrigues' writing is beautiful, and she brings the historical characters to life. The novel is told in alternating chapters, interspersing the conversations between Joseph and Jefferson at Monticello with Eleonora's memoir, which Joseph is reading. The scenes at Monticello are fascinating, with Joseph and Jefferson discussing a wide range of topics, including slavery, revolution, and science. Rodrigues makes the reader sympathize with the protagonists, and the book left me wanting to read more, especially about Eleonora.
https://historicalnovelsociety.org/reviews/eleonora-and-joseph/
READERS' FAVORITE
REVIEW
Eleonora and Joseph is a passionate novel of love and revolution. In 1799, Eleonora Pimentel stands before the High Court of the Kingdom of Naples. She has been accused of treason. During her trial, Eleonora pens a memoir, giving details of the life events that led up to her arrest. Eleonora's life was revolutionary in thought, word, and deed.
Julieta Almeida Rodrigues' Portuguese roots shine brightly in this romantic historical novel. The narrative is fictional, yet full of historical accuracy.
https://readersfavorite.com/rfreviews/search?search=Julieta+Almeida+Rodrigues&by=authorname
THE US REVIEW OF BOOKS
REVIEW
The complex, contradictory characterizations and historical details of the Enlightenment era are skillfully handled and clarified in straightforward but descriptive prose that will satisfy both academic and non-academic readers.
The most interesting player of all is Eleonora, a "martyr of liberty" whose illustrious life ends tragically at the gallows in 1799 with some of her fellow revolutionaries in Naples.
RECOMMENDED
https://www.theusreview.com/reviews-1/Eleonora-and-Joseph-by-Julieta-Almeida-Rodrigues.html#.YIx3QC2ZNQI
MIDWEST BOOK REVIEW
Donovan's Literary Services
Julieta Almeida Rodrigues brings these colorful historical figures to life and marries their worlds in a narrative that is vividly written, capturing not just their lives, but an era on the cusp of unprecedented social, political, and cultural change.
As Thomas Jefferson plays a key role in creating the circumstances which bring Eleonora's journal - and its revelations - to new life years after its creation, readers receive a satisfying contrast of European and American environments that embraces and explores moral, ethical, and social conundrums alike.
RECOMMENDED
http://donovansliteraryservices.com/june-2021-issue.html#eaj
THE PRAIRIES BOOK REVIEW
Brimming with pathos and rich in character, this is a knockout…
Lush and electrifying, Rodrigues's vibrant tale about love, morality, and duty is a searing depiction of the Enlightenment.
Rodrigues's intelligent writing brings the era alive while revealing the complexity of her vividly drawn characters. By turns luminous and tragic, the novel will ensnare readers from the first few lines and lingers in the memory long after they turn the last page.
ONLINEBOOKCLUB
REVIEW
Eleonora and Joseph is my best read of the year so far. It's rich in history, character, and flair. The story is told with a genuineness that prods the heart. It evokes profound questions that linger behind long after you turn the last page. Considering these factors and the impeccable editing, I rate it four out of four stars.
Julieta's work holds so much history, passion and utter brilliance within its pages that I would recommend it to anyone interested in history.
https://forums.onlinebookclub.org/viewtopic.php?f=63&t=195541
NEW PAGES
Stephanie Renee dos Santos
This book allows the reader into the inner workings of this radical time where many opposing ideals were fought and died for.

It is refreshing as a lover of historical fiction to read an original story like Eleonora and Joseph that brings to life important historical characters and events from a fresh new angle and lens.
https://www.newpages.com/blog/books/book-reviews/a-fresh-look-on-historical-events/
ALMEIDA FARIA
Author, O CONQUISTADOR
Eleonora and Joseph is a brilliant novel that confirms the narrative talent I once discovered in On the Way to Red Square. I give the book 5 stars.
AMBASSADOR PEDRO CATARINO
Ambassador of Portugal to the United States, 2002-06
Eleonora and Joseph's literary quality is impressive. This is a profound novel, written with knowledge of the period, elegance of style, and in impeccable English. Worth noting is the remarkable dialogue between the various personalities that allows the reader to relive, realistically, the historical times in which the characters lived. In all, a delightful book which I enjoyed enormously.
AMAZON REVIEW
Dr. Andrew J. O'Shaughnessy
Professor of History, University of Virginia
Former Saunders Director of the Robert H. Smith International Center for Jefferson Studies at Monticello
In her engaging novel, Eleonora and Joseph, Rodrigues dramatizes the lives of Eleonora Fonseca Pimentel, Joseph Correia da Serra and Thomas Jefferson. Written with attention to historical detail, against a background of tragedy and revolution, it richly evokes events in Lisbon and Naples, along with conversations between Jefferson and Correia at Monticello. It is both educative and fun reading.
https://www.amazon.com/gp/customer-reviews/RJQ8WDHJ9UJ4F/ref=cm_cr_arp_d_rvw_ttl?ie=UTF8&ASIN=B08K3HGZYX